Dental Implants
What are Dental Implants?

When teeth are lost or removed, it can result in problems with eating and function, not to mention the aesthetic aspect of missing teeth.
Due to modern day dentistry, we are able to replace this missing tooth with a dental implant, which are placed in the jaw bone, as shown in the picture. Implants are small titanium cylinders that support crowns, bridges and also dentures. Crowns are viewed as the best replicate, in terms of normal function and appearance of a natural tooth.
What is the Implant process?
Implant treatment normally has two stages. First, the gum is numbed and lifted open. The implant is then placed in the jaw and allowed to heal for a period of 12 weeks . Then, when the jaw has healed, replacement teeth are attached to the implant.
In some situations it is possible for temporary teeth to be attached to an implant at the time of fitting. This way you won't have missing teeth whilst the implant is healing.
Single Tooth Implant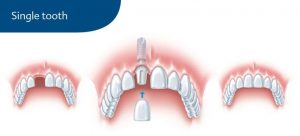 Replacing a missing or failing tooth with a single-tooth implant has great benefits over the alternative options of a bridge or denture
In most cases, the treatment is very quick (usually taking less time in the chair than a crown or root treatment), is virtually pain-free, and the recovery is normally simple and straightforward. Most patients report less discomfort after an implant is placed than following an extraction by their dentist.
You do not have to be left with a visible gap during any stage of your treatment, and we will discuss your options for filling these gaps carefully with you at your assessment.
The final outcome will be a replacement tooth that looks, feels and functions like one of your own teeth.
Click Here to see our Dental Implant Gallery.
All-On-4/Teeth in a Day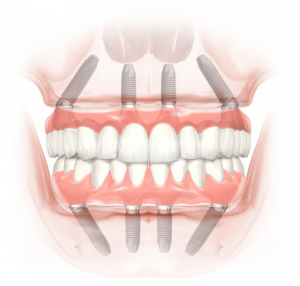 All-on-4 is a treatment concept to remove failing teeth, place dental implants and immediately attached a fixed bridge, all in one day.
All-on-4 offers you a number of advantages over conventional dental implant tooth replacement.
Fewer practive visits
Short treatment time
No complex surgery
Avoid bone grafting
No need to wear dentures
Fixed cost
Here is a short explantion about the All on 4 procedure 
Would Dental Implants be right for me?
First, you should decide whether implants could be right for you. Contact us to arrange an Implant consultation and discuss your possibilities. Our team will be only too happy to help you with any questions and queries you may have.
Contact us to book your FREE consultation 
Implantologist
Dr. James R. Hyslop
BDS (Sheffield) MFGDP(UK) MSC(Periodontology) Diploma in Implantology (RCS) Postgraduate Cert. in Endodontics
James qualified with a Bachelor of Dental Surgery Degree at the University of Sheffield in 1996. He became a member of the Faculty of General Dental Practitioners in 2004. In 2010 he a achieved a Postgraduate Certificate in Endodontics at the University of Chester. In 2012 he gained his Master's Degree in Periodontology at the University of Western Cape. James has been placing and restoring dental implants since 2006 and completed the coveted Diploma in Implant Dentistry; The Royal College of Surgeons, London.
In 1997 James joined the Royal Army Dental Corp and served as Dental Officer until 2005. In 2005 until 2006, James worked in NHS General Dental Practice in Formby, Merseyside. James then proceeded to work in the Department of Periodontology at the University of Western Cape, South Africa, from 2006-2008, where he studied for his Master's Degree in Periodontology. This is where James began placing and restoring dental implants.
James has placed and restored many implants for all solutions; ranging from single missing teeth to full mouth rehabilitation.
James is very interested in all aspects of restorative and cosmetic dentistry, with particular interest in the surgical placement and restoration of dental implants. James particularly welcomes referrals from colleagues for this type of treatment.